by: Kevin Broløs
(Feyn version 1.4 or newer)
The graph is the final artifact, and can be referred to as your output model to keep in line with other machine learning frameworks.
A graph consists of one or more of your input features, some interactions between them and a variety of functions that have been fitted to your dataset, leading to an output.
An example graph for the iris dataset could look like this:
In an IPython environment, you'll be able to hover over each of the interactions to get a tooltip with the internal state of it - such as the weights, biases and encodings.
from

 sklearn.datasets 

import

 make_classification


import

 pandas 

as

 pd



from

 feyn 

import

 QLattice


from

 feyn.plots 

import

 plot_confusion_matrix


from

 feyn.tools 

import

 split

ql = QLattice()



# Generate a dataset and put it into a dataframe


X, y = make_classification()
data = pd.DataFrame(X, columns=[str(i) 

for

 i 

in

 range(X.shape[

1

])])
data[

'target'

] = y



# Train/test split


train, test = split(data)



# Get a classifier


qgraph = ql.get_classifier(train, 

'target'

)
qgraph.fit(train)



# Select a graph from your fitted QGraph


best_graph = qgraph.best()[

0

]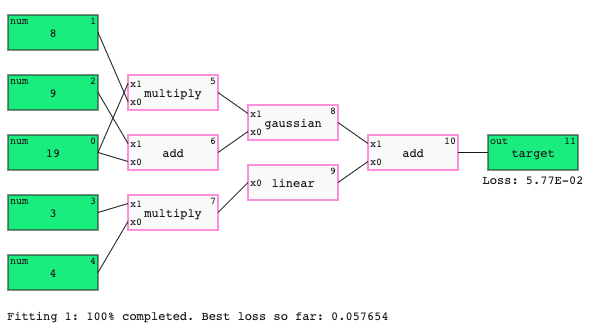 Having selected a best graph, we can now use it to produce predctions, and plot a confusion matrix:
# Get predictions


prediction = best_graph.predict(test)

plot_confusion_matrix(y_true=test[

'target'

],
                                y_pred=prediction.round(),
                                title=

"Confusion Matrix [Test]"

)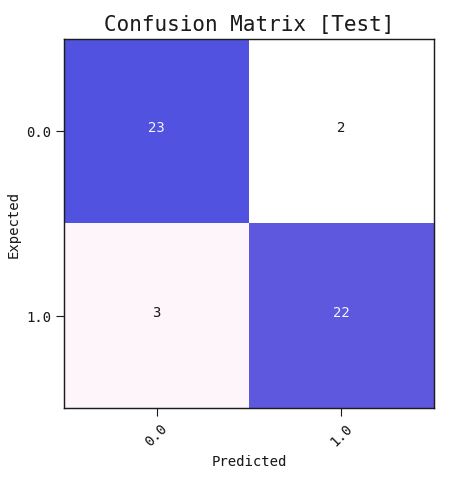 There's also plenty of other plotting functions, metrics and other goodies to use for inspecting graphs. You can see the full API reference here.