by: Valdemar Stentoft-Hansen and Chris Cave
(Feyn version 1.5 or newer)
Feyn offers a range of tools to help you dissect your graph and its dynamics.
As sample data we are going for the boston housing price prediction dataset from sklearn where we are predicting median house prices of different areas around Boston. Below I import data, prepare it and find my graph of choice with my QLattice:
from

 sklearn.datasets 

import

 load_boston


import

 pandas 

as

 pd



from

 feyn 

import

 QLattice


from

 feyn.plots 

import

 plot_graph_summary


from

 feyn.tools 

import

 split



#Download boston housing dataset


boston = load_boston()
df_boston = pd.DataFrame(boston.data, columns=boston.feature_names)
df_boston[

'PRICE'

] = boston.target



# Train/test split


train, test = split(df_boston)



# Connect to QLattice


ql = QLattice()



# Get a regressor


qgraph = ql.get_regressor(train, 

'PRICE'

, max_depth = 

2

) 

#max_depth = 2, let's not overdo it


qgraph.fit(train)



# Select a graph from your fitted QGraph


best_graph = qgraph[

0

]

Segment your model fitness

Is there certain parts of my dataset where my model is failing? And consequently, how do I know where to focus my efforts in improving my model? We answer this question with a segmented loss plot. This plot displays the distribution of a feature (or as per default the output variable) in a histogram (or frequency bar plot for categorical features). This histogram is overlayed with the average loss for the associated bin or category.
best_graph.plot_segmented_loss(data = train)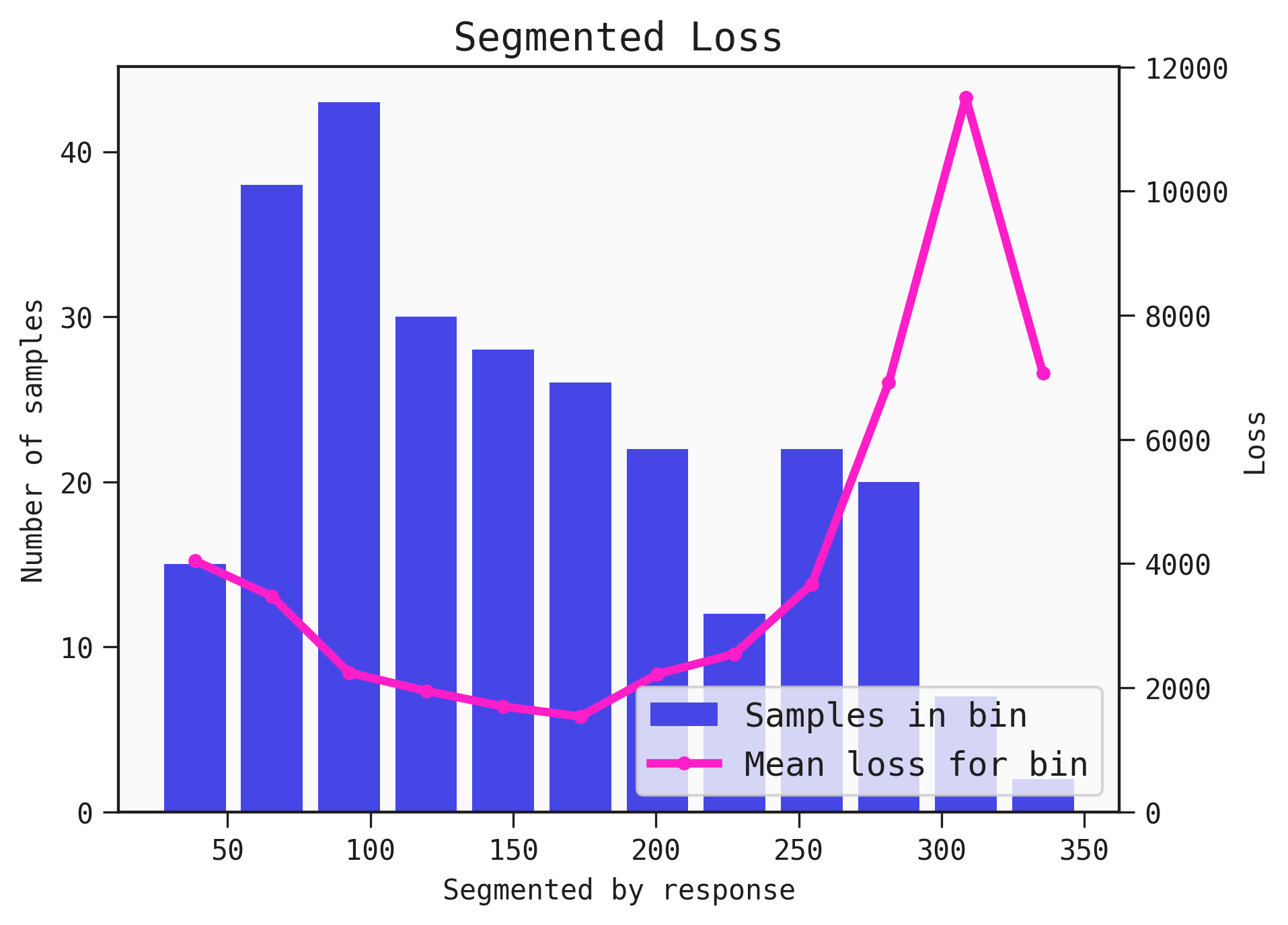 The findings from segmented loss plots might lead to tinkering with feature engineering, sample weighting (available in the fit call), and/or outlier alterations.
Let's have a look at the segment plot by LSTAT:
best_graph.plot_segmented_loss(data = train,by = 

'LSTAT'

)